"I'm right where I belong."
An enthusiastic Reba Watson opened with these words as she shared the story of her journey as an artist. Her animation was tempered only by her humility as she mentioned repeatedly, "I never expected to get this far." Reba Watson grew up in the West Central Texas town of Abilene. Following her graduation from Cooper High School in 1963, Reba went to work for a local photography studio. "It was there I learned to create color portraits, painting with oil paints over black and white photographs before the days of colored film." Several years later, Reba and her first husband opened their own photography studio. Her love of producing portraits grew and she continued to refine her artistic skills, serving as a photographer as well as manager of the art department for the studio.
As often happens, the business of life crept in over the years. Reba's days were filled with family, work and all of the busyness that brings with it. She remarried, raised six children, and eventually took a job with 3M manufacturing in nearby Brownwood, Texas. After 18 years with the company, Reba retired in 2002. It wasn't until after this that she felt free to rekindle her love of painting.
"I just picked up where I'd left off more than 30 years ago!" Reba explained, as if painting were as simple as riding a bicycle. Local painting lessons, classes at Howard Payne University and various art workshops only served to fan the flames. For the past 5 years, Reba has studied under Mike Lanier, artist and owner of Studio 13 in Abilene, Texas. "I'd always admired his work; it fired up a desire in my heart to be a better painter. I said to myself, 'I want to paint like that!'" Each week, Reba faithfully makes the 150 mile round-trip trek between her home in Zephyr and Lanier's studio in Abilene. "As an artist, I don't think you should ever stop learning," she explained.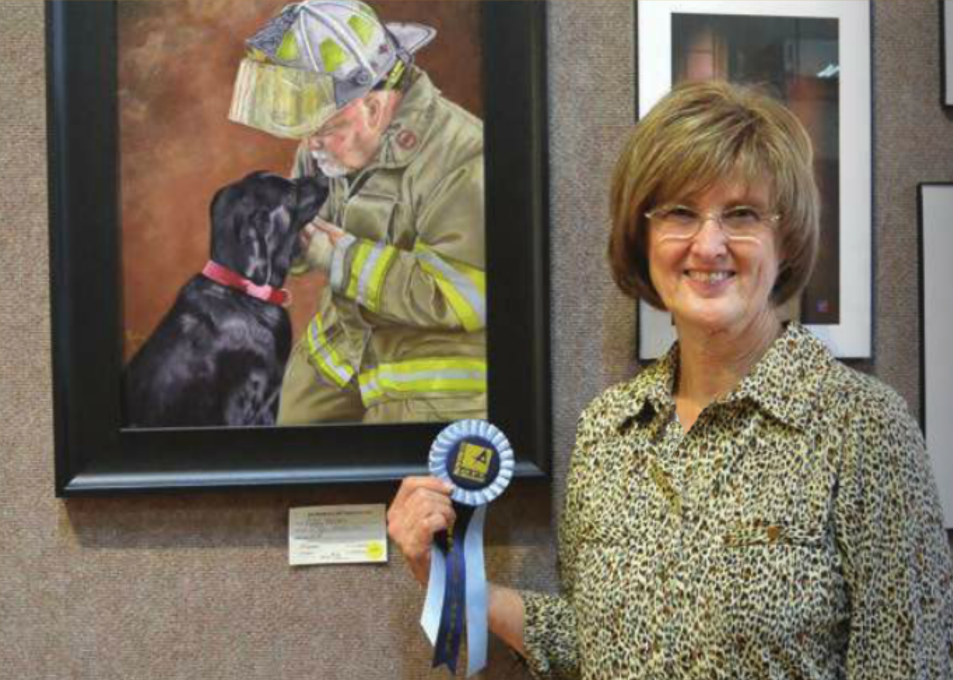 Last year, after joining the Brownwood Art Association in Brownwood, Texas, Reba entered one of her works in the Brownwood Reunion Community Art Show. During the three day event, the community voted on their favorite piece. Much to her surprise and delight, Reba was awarded the 2014 People's Choice Award for her oil painting titled "Real Heroes" (shown above). The piece depicts local fire marshal and peace officer, Buddy Preston, along with his trusty black lab, Nika, who is his partner and serves as an arson dog. The painting is an example of Reba's exceptional portrait work. "I've always enjoyed telling a person's story through his or her portrait, but I never expected to win an award for it!" Reba said humbly. Weaving the details of her subjects' lives into the pieces she creates is one aspect of Reba's artistry she especially enjoys.
Reba is currently an active member of the Comanche Art Association (CAA) and the Brownwood Art Association (BAA). She has had paintings in the Comanche Loft Gallery, Coleman Herdridge Art Gallery and Studio 13 in Abilene. In June of 2015, Reba was honored by the BAA as a featured artist at the Brownwood Art Gallery. Motivated by her recent award and a newly completed home studio, Reba is eager to grow her new business venture, Reba's Art. "I find such excitement in my portrait projects, but it is also a soothing process to me. When I'm painting, I completely lose myself in my work." Maybe that's because when she's painting, Reba Watson is truly right where she belongs.
For more information about Reba's Art, specializing in commissioned portraits, visit www.Rebasart.wix.com/rebasart or contact Reba Watson at 325.998.0007.