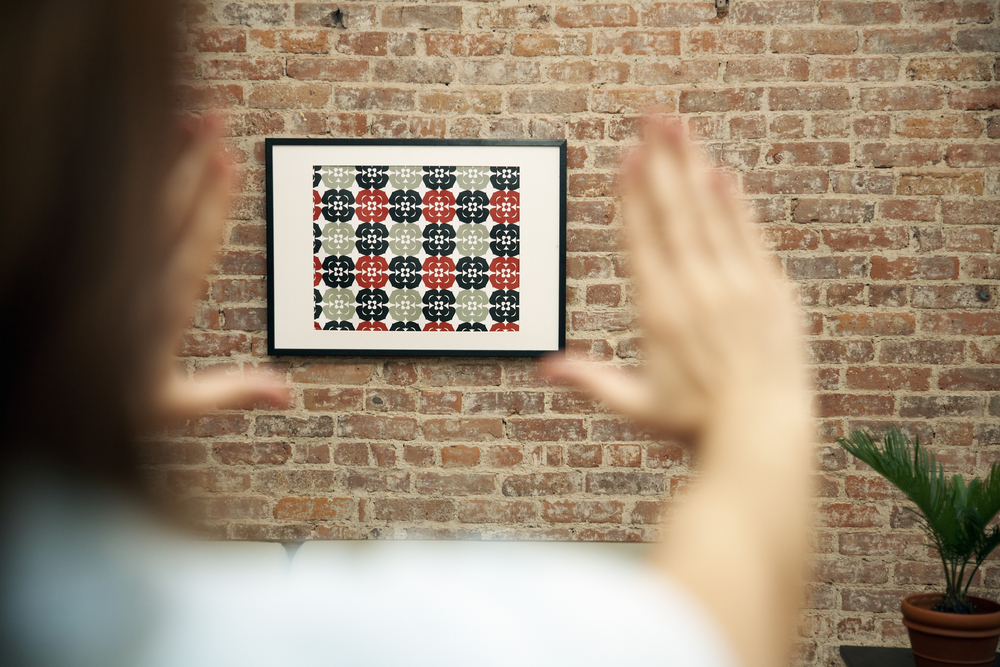 The artwork you choose to display is one of the most uniquely personal aspects of your home. It's a statement about who you are and what moves you. Unfortunately, many people miss out on the opportunity to showcase their artwork by falling prey to a few common picture hanging mistakes. By becoming aware of these top 5 picture hanging pitfalls, not only can you minimize the number of holes you put into your walls, you'll also come away with some amazing end results.
A Healthy Fear of Heights
Undoubtedly, one of the most common mistakes in hanging artwork is hanging your pieces too high. Pictures you have to strain to see or those that appear to be randomly floating in the middle nowhere detract from the overall look and feel of your space. Ideally, artwork should be hung at eye level, where it is easiest to enjoy. Of course, that is different for each person, but the average human eye level is 57 inches. This is also the figure many galleries and museums use to guide their displays. Positioning your artwork so the center point of the picture hangs approximately 57" from the floor will help create a consistently harmonious look throughout your house. This advice holds true for picture ledges and salon-style gallery walls as well.
Below are a few additional considerations to keep in mind:
Be sure that the bottom of the hook/hanger (rather than the nail point) is resting on the spot marked 57" when you hammer your nail into place.
When hanging several pictures together, the 57" rule still applies, but should be slightly modified. Treat the grouping as one print and calculate the center of the entire grouping rather than each piece separately. You can make this task easier by laying the grouping out on the floor and adjusting the arrangement until you are satisfied. From there, you can accurately calculate the center point.
You may need to tweak the 57" rule if you have extremely high or low ceilings (8-9 foot is standard).
You may also need to make adjustments if you have a piece of furniture that sits particularly low. Generally speaking, the bottom of the frame on artwork hung over furniture should be no more than 6-8" above the piece.
Consider hanging pictures lower in children's rooms or in rooms where you spend most of your time sitting.
The 57" rule won't necessarily apply to certain spaces like stairwells and mantles. In such cases, you'll want to make sure that the piece of art connects to the rest of the space.
To expand a bit more on the last point mentioned above, it is equally important to remember that artwork and the other elements of your home such as furniture, lighting, and architectural details should relate to each other and be arranged accordingly. Think of your art as an extension of the furniture. This includes sofas, armoires, hutches, desks, pianos, desks, bookcases, and floor and table lamps. Before you start hammering nails into your walls, place your furniture exactly where you want it. The artwork should then be placed so that all of the elements collectively occupy a wall as a unit. In other words, art should be integrated into your design plan so it appears connected to the rest of the space. A large gap between the pieces can look awkward and make the space appear disjointed.
Size Does Matter
Another frequent misstep is hanging a piece of art that is not to scale with the space you are trying to fill. Artwork that is too small can be swallowed up in a space that obviously calls for something more substantial in size.  On the flip side, hanging an overly large or bulky picture above a piece of furniture can create a disproportionate look. Choosing furnishings or accessories in the proper scale is essential to creating a harmonious composition and a space that works.
A few tips:
When working with a picture that is too small for a particular space, consider reframing it with a larger mat or thicker frame.
Multi-frame groupings of art can create a powerful focal point and also serves as a clever option for filling large spaces. Let your creativity run wild by mixing different color pallets and styles as well as paintings and photographs.
When choosing artwork to hang above a sofa, select a piece that is at least ½ – 2/3 the length of the couch to create the perfect balance. The same holds true when selecting a piece to hang above a bed.
Wall paper or fabric covered canvases, quilts, and clusters of your favorite collection of objects are unconventional options for oversized art.
If you do decide to do something out of scale with the rest of the room, make it look intentional by selecting pieces that are perceptibly over or under-sized. Doing so will look less like an error and more like a statement.
Always, Always Have a Plan
Gallery walls and other multi-frame groupings are one of today's hottest design trends. Unfortunately, many of these projects fall short due to lack of planning. Investing a little time on the front end, can save you a big headache in the long run!
Being by laying the pictures out on the floor before you begin hanging. This process allows you to step back, observe, and make the necessary adjustments without having to put holes in your walls or hold up heavy artwork. Start with largest / heaviest in the center or slightly off center and build around it with your other pieces of art until you have created a pleasing arrangement. If you don't have one that is noticeably bigger, weight the center with darker pieces or frames. Pepper the arrangements with both dark and light pieces. Avoid putting especially dark or light pieces next to each other. If you're working with a combination of pictures and photography, you'll want to mix those up as well. Your goal is to bring an overall balanced look to the arrangement. Be sure to keep the prints evenly spaced from one another; a general rule of thumb is 2 – 3 inches.
You can take this method a step further by creating a template the actual size of your artwork. Make craft paper cut-outs the size of each piece in the grouping and adhere them to the wall with easy-release painter's tape, which is less likely to damage wallpaper or paint. This will allow you to tweak the layout to your liking.
The Right Tools for the Job
Selecting the proper hardware for hanging your artwork is key to keeping your pieces safe, secure, and on the walls where they belong! Unfortunately, this step that is often overlooked and can result in damage to your walls and even your work or art.  In order to select the right hardware to hang your picture, it is crucial to know the approximate weight of the piece. A simple way to determine this is to weigh yourself on your bathroom scale while holding the picture and then subtract your weight from that figure.
The wall material and whether or not the hanger will be attached to a stud should also factor into your decision about choosing the proper hardware. If the hanging hardware will attach to a wall stud or solid wood paneling, just about any hanger suitable for the frame and rated for the weight of the picture will do. If the picture is heavy and a stud isn't present, you'll probably want to use hardware with anchors to provide maximum holding power.
Once you know the weight of the piece and the wall material you'll be dealing with, there are a number of fasteners you can choose from.
Traditional metal picture hooks work well for frames fitted with wire. They come in a variety of sizes that can hold artwork up to approximately 100 pounds.
Screws or nails are usually a better choice when working with saw-tooth and D-rings hangers.
Thin, curved spring steel wires are a relatively new alternative being sold under brand names such as Heavy Duty Wall Hanger, Hercules Hook, and MonkeyHook. These hangers can be inserted into a wall without tools in just a matter of seconds. It is important to note these particular hangers will only work where there is no stud or other obstruction in the wall.
Hangers with anchors that spread out behind the wall are excellent for your heavy pieces because they provide the most holding power but be forewarned…they also leave the most damage on walls.
When hanging heavier pieces, it might be wise to consider hanging the picture from two hooks rather than a single point. This will provide added security and increase the likelihood that the piece will stay centered. You can also create additional stability by using two D rings on the back of the frame rather than picture hanging wire. Adding self-adhesive rubber bumpers to the bottom corners on the back of the frame before hanging will help keep pictures level and prevent them from damaging walls.
Less Is More
The final picturing hanging pitfall we'll discuss is failure to practice restraint. It's a hard lesson to learn, particularly if you love art, but not every wall needs to be adorned and not every piece of art you own needs to be displayed. In order to give your artwork the attention it deserves, you'll want to leave some empty space on your walls. This allows the eyes to rest and fosters a calmer, less chaotic environment where the pieces that are displayed can truly be the "stars of the show." Why not store extra pieces and rotate them periodically where you're ready for a new look!
Although not an exact science, there are some tried and true tips for hanging artwork that will help take the guesswork out of the process. What tips or special techniques can you share about your picture hanging projects?