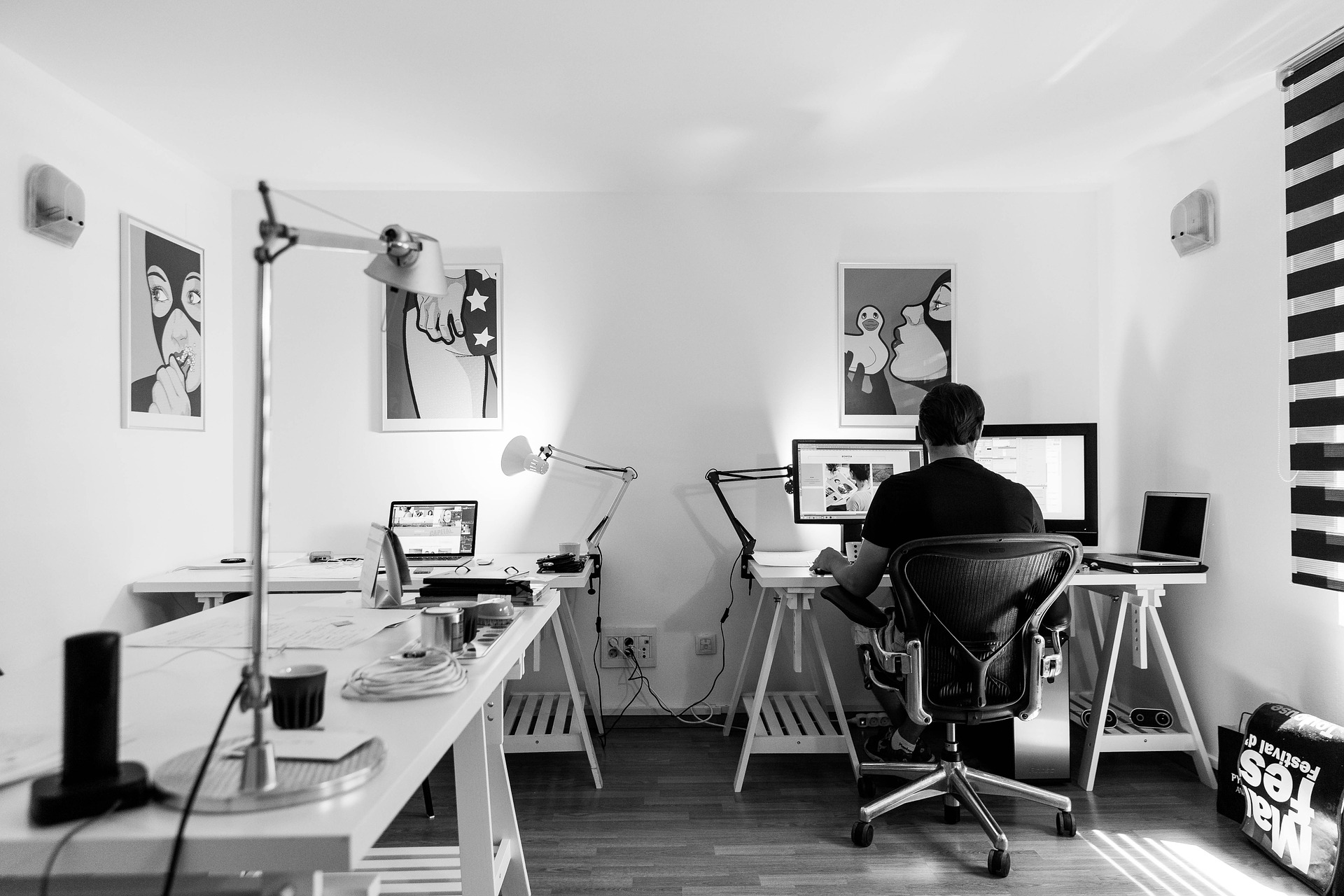 Whether you realize it or not, the moment a client walks through your doors, they begin forming an impression of you and your business. Your workspace tells a story, conveying information about your professionalism, capabilities, and work style. You might be surprised to learn that the artwork you display in your office holds the potential for creating a meaningful connection with clients and co-workers alike.
Art can be used in setting a positive tone for a space. It can provide a welcoming atmosphere or deliver an infusion of drama for your office. Learning how to make your art work for you is not as difficult as you might think. If you're considering livening up your workspace with art, read on! We've put together a few general principals of design that will put you on the right track.
Choose Your Message and Theme
The artwork you select for your office should speak to who you are and communicate the appropriate message regarding your business objectives to visitors. It is important that the pieces you choose are relevant to the work you do and fit the company's philosophy and style. You may want to start by choosing a theme that relates specifically to your work. For example, over-sized stock certificates would be right at home in a bank executive's or financial planner's office whereas you might find artwork with animals or other themes appealing to younger clients in a pediatrician's workspace.  If the main thrust of your work involves creativity and innovation, pop art, abstract art, and striking photography might be suitable choices. If you work in a more conservative field, you may want to lean toward more traditional pieces that bring a sense of stability and security. Still lifes, landscapes, and works by famous artists, even reproductions, lend an impressive air to their surroundings.
Once you've narrowed down your theme, ask yourself what kind of environment you are trying to create. Are you hoping to foster a sense of calm and tranquility, or is wowing your visitors more important? Traditional pieces tend to create an aura of sophistication and reliability, while bold, progressive works send out a more playful, fun vibe. When you have a clear picture about the atmosphere you're trying to establish, you're one step closer to making a powerful visual statement with your art.
Color and Composition
Understanding the impact of color becomes essential as you move forward with the art selection process. The colors you choose to incorporate into your design plan will have a profound effect on the feel of your workspace. Certain bright colors, such as orange, yellow and red, bring a sense of energy and evoke spontaneity, while cool blues, purples, and soft neutrals can create a feeling of calm and order. Of course, you'll want to look for works that compliment your existing color scheme.
Strong pops of color can be used to create a focal point, but should include a touch of the dominant color to pull the room's décor together. Keep in mind that light colors tend to expand a small space. On the other hand, warm tones, particularly reds, pinks, golds and oranges, can make a spacious room feel cozier.
Composition, which refers to the placement or arrangement of visual elements in a work of art, should also come into consideration when selecting artwork. Like color, the direction and orientation of the lines in an artwork can also suggest certain sentiments. Horizontal lines imply tranquility and rest; vertical lines suggest power and strength. Angled convergent lines hint at action or movement and give a dramatic and lively affect to an image. Curved lines are associated with softness and call to mind feelings of serenity and sensuality.
Size and Space
Effective placement of your artwork is crucial. Begin by focusing on first impression areas such as lobbies and meeting rooms. Pieces selected for these shared spaces should have a broad appeal and be pleasing to both you and your visitors. Artwork in these high-traffic areas has the most potential for packing a powerful punch. With that said, be careful not to limit yourself in your use of space. Placing pieces in other less obvious areas such as hallways and restrooms can also add life to your office.
In addition to location, you'll also want to consider the size of the room in which the piece will be displayed. A simple guideline to keep in mind is to scale art to the space in which it will be exhibited.  In larger spaces, use over-sized pieces to create visual impact. In a small or dark room, you may want to utilize a picture that helps create the illusion of air and light. Look for artwork that depicts light-filled spaces such as landscapes, seascapes, windows or doors.
On a side note, personal offices present a wonderful opportunity for you to express your unique style while still demonstrating an artistic point of view. Your selections for this space are a snapshot reflection of you as an individual. Family photos, framed credentials and awards, and pieces that hold personal meaning are more appropriate for your private office.
Additional Rules of Thumb
Don't overdo it! Just a few key pieces can add significantly to the overall ambiance of a space.
Proper lighting is essential. Use natural light, as available, to highlight your artwork and supplement with overhead recessed lighting. Consider mounted picture lights as well as table lamps as additional options.
Introducing different types of artistic media is not only a popular trend, but also a simple way to add appeal to a space. Sculptures, ceramics, and photographs can all be used to create an eclectic mix. Using shadowboxes to frame meaningful objects is another interesting way to make a statement about who you are.
Presentation and preservation are of the utmost importance. Quality matting and framing not only makes your art look impressive; it also helps you preserve your piece by protecting it from potential damage.
Where to start? Art stores, galleries, websites, tradeshows and art fairs can all be excellent resources for your search. Art rental programs are also worth investigating and can be an advantageous option.
Still feeling overwhelmed? Consider hiring a professional to assist you. Art consultants, professional framers, and interior designers can all help with locating, selecting, and installing artwork.
Now that you know the basics of using art to set the tone for a space, here's one final thought for you to keep in mind…have fun! Your selections do not have to be permanent; art can be changed. Hopefully, knowing this gives you the freedom to experiment with the powerful potential of art!